Catering At Your Door
Catering At Your Door is a professional, full-service, off-premise caterer servicing the Southern California area from Mission Viejo to Thousand Oaks and all of Orange County.
We offer a delicious array of Great Beginnings, classic Hors d'Oeuvres, Sit-Down Dinners, Crepe Stations, Pasta Bars, Fajita Stations, Backyard Barbecues, and more. Our amazingly delicious brunch menus are second to none, and our chefs provide an interactive presentation while they prepare your food right before your eyes. We now offer Cappuccino Stations and Fresh Fruit Smoothie Bars as well. To get your special event started, call your catering consultants, David and Jennifer Model, today at (805) 222-5676.
Catering Staff
The friendly and knowledgeable full-service staff at Catering At Your Door understands the importance of your special occasion and believes that every detail should be attended to with utmost attention. Our event caterers strive to exceed your expectations. Whether it's an upcoming gala, fundraiser, mitzvah, wedding, or casual family gathering, we will simplify your planning process and make your event an absolute success.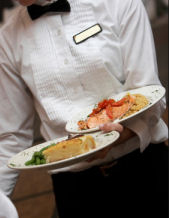 Making The Right Choices:
Whenever possible, Catering At Your Door uses eco-friendly practices and products to do our part to help conserve and protect our environment.
Meet The Owners
For over 20 years David and Jennifer Model have been known for their reputation as well as their unsurpassed dedication to providing the highest quality catered events. David and Jennifer met at the University of Maryland while studying food, nutrition, and marketing. With a love of food, they hatched their plan when they were sophomores to make this their full-time career.